If you've ever searched for a web design company or a web designer you have surely seen the term "SEO". So what is SEO and why is SEO important to you?
Great question.
SEO is the acrynem for Search Engine Optimziation. If the coding and images of a website are the backbones of a website then SEO is the blood that runs through the veins.
What exactly is SEO and what does it do?
Building a website is not like building the field of dreams, no matter how much I wish that was the case. If you build a website that does not mean people will come to it.
You have to grease the marketing wheels of the website machine!
That's what Search Engine Optimization (SEO) is.
SEO is a number of different factors pulled together to make your website easy for search engines, like Google to find your website.
You want to make sure that the structure of your website is easy for Google to read and make it as easy as possible for them to show your website over your competitors.
SEO is much like a research paper it starts with research. You have to look at what search terms people are using to find the products or services that you offer.
These are often referred to as keywords.
How do I choose my SEO keywords?

It's easy.
Just kidding. It could be simple as you know you want to "pop up" when someone searches for "your service" in "your area".
It's an extremely simple concept with a complex set of things to look at when determining what's best to use.
For example, you might think the keyword "bob's garage" is going to net you the customers you want. But if only 5 people a month are searching for "bob's garage" the likelihood of someone finding your website is very small.
It gets worse.
With website conversion rates, that's when someone contacts you to buys your product, at 2.86% you need to get as much good, targeted traffic that you can.
Organic vs Paid SEO
Organic search results are the results that Google displays because they feel they give the searcher the best results for their search query.
You cannot pay to show up higher in organic search results.
Google does offer paid advertisement through a number of different venues via its Adsense program.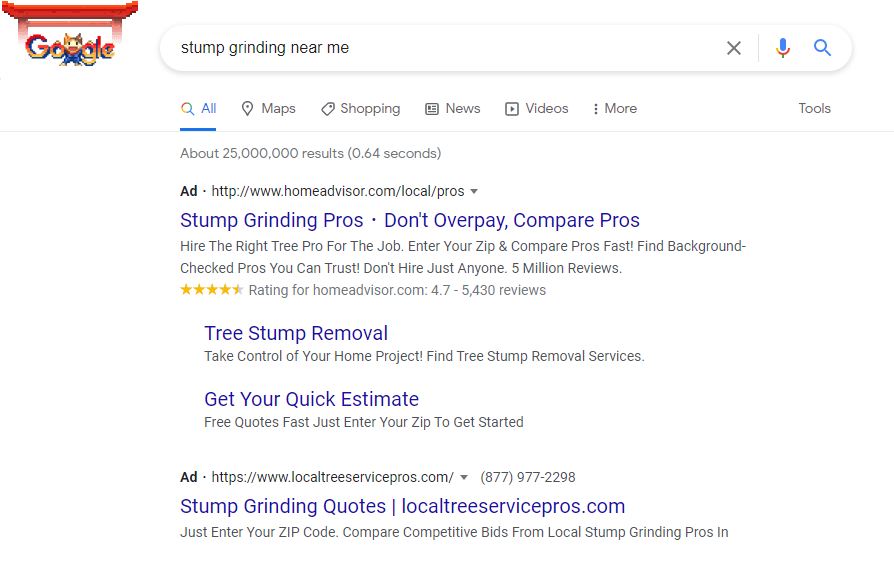 As you can tell these are at the very top of the search results and are 100% paid. These paid ads aren't always the best option for your search query, since Google is being paid to serve them first.
A mixed paid and organic strategy is always the best bet for a company to deliver results quickly and also focus on long-term SEO results.
How do I get started with SEO?
There are so many guides floating around the internet and there's no one size fits all solution. We often tweak our customer's SEO strategy several times a year because Google, Yahoo, and Bing are always changing their search algorithm.
So if you want to get started there are a few great places to start, like Neil Patel or Backlinko, they will guide you through the massive treasure-trove of data and information to optimize your site for SEO.
Wait. Don't you offer SEO services? Why are you sending me to do my own research?
You don't have to. But it is an option.
We offer search engine optimization services for local businesses and we are extremely confident in our ability to get results for our customers.
Side note: If any company guarantees results they are lying to you or selling you ads.
But if you want to dig in and try to optimize your site on your own, more power to you! Many business owners have enough to worry about and just want it handled and that's where Lynx Creative Group comes in.
We can custom make an SEO plan and stay on top of that plan for you while you worry about the day-to-day of the business.
Let's Build Your Web Presence Together
There's no project too small. We want to help your business grow!